Announcement:
New Terms & Conditions updated. No More Bonus For Live Casino Games.
918Kiss2 Now Available! ID & password at GAMES tab
New Game Available - Playtech! Enjoy Now
Welcome to 918Dompet! Register FREE account now & get 30% Welcome Bonus!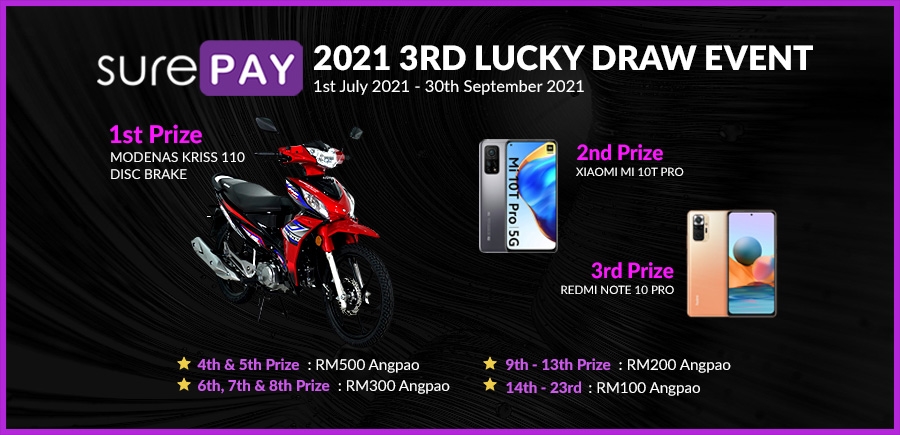 Lucky draw event will be drawn quarterly (3 months once) for each SUREPAY deposit user.
Only each SUCCESSFUL TRANSACTION will be valid on the ticket for the lucky draw.
Each website member is entitled to only 1 PRIZE (UPON THE 1ST DRAW). Should the subsequent draw falls upon the same member. That prize will be redrawn again for the next member.
Draw prize will be from the lowest to the highest prize.
SUREPAY will filter out participation Merchant together with their consent to upload SUREPAY LUCKY DRAW event banner to their website.
Upon extracting all the TRANSACTION ID e.g. 1st January 2021 to 31st March 2021, SUREPAY will filter ONLY THE SUCCESSFUL TRANSACTION. Then SUREPAY will reorganize and number in sequence from earliest to latest date. E.g. 1st January 2021 1st successful item will be number 1.
After the draw, SUREPAY will inform winners. Delivery of prize will be between 1-2 months depending on the location of the winner.